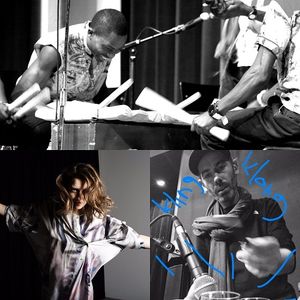 Amadinda Sound System
==
Scroll down for english version
==

Traditionell ugandische Musik, gepaart mit elektronischer Musik aus Österreich.

Diese beiden komplett unterschiedlichen Musikstile zu verbinden, ist nicht nur eine Herausforderung, sondern auch ein Abenteuer, an das sich die MusikerInnen des Kollektivs Amadinda Uganda sowie die österreichischen KünstlerInnen Wolfgang Schlögl und Barca Baxant heranwagen.

Amadinda Uganda wurde 2015 von Lawrence Okello gegründet. Im selben Jahr tourten sie durch Österreich und Deutschland, organisiert von kulturen in bewegung. Nun wird die Zusammenarbeit mit der Gruppe weitergesponnen. Im September 2016 reisen Wolfgang Schlögl und Barca Baxant nach Uganda, um mit den MusikerInnen Namisango Catherine, Bazibu Micheal, Farouque Bukenya und Okello Lawrence neue Musik zu kreieren. Erstmalig beim Bayimba Festival 2016 in Kampala/Uganda werden die MusikerInnen unter dem Namen "Amadinda Sound System" ihre gemeinsame Musik präsentieren.
In Buganda, lange bevor die Briten in Ostafrika im 19. Jahrhundert ihre Stützpunkte errichteten, gab es eine hochentwickelte Musikkultur. Die Baganda komponierten zu Ehren ihres Königs einzigartige Stücke auf der Amadinda, bei denen durch Verzahnung der Töne musikalische Gebilde entstanden. Die Amadinda ist das Hauptinstrument in der Musik des südlichen Kontinents und somit mit dem Klavier in der westlichen Musik vergleichbar. Amadinda Uganda setzt sich zum Ziel, die Musik der Buganda neu zu interpretieren und erlebbar zu machen.


Die Musiker_innen

Der profilierte Leiter des Ensembles Amadinda Uganda, Lawrence Okello ist ein Kenner der traditionellen Musik Ugandas und einer der besten Perkussionisten und Instrumentalisten wenn es um ugandische Instrumente geht. Er möchte mit diesem Projekt die Vielfalt der Amadinda und anderer ugandischer Instrumente in die Welt hinaustragen. Dabei setzt er sein musikalisches Erbe in Bezug zu einer sich stets verändernden Welt.
Mit Catherine Namisango, Farouqe Bukenya und Micheal Bazibu konnten profilierte ugandische MusikerInnen für das Projekt an Bord geholt werden.
Wolfgang Schlögl ist Produzent und Musiker im Bereich der elektronischen Musik und gilt längst als internationales Aushängeschild der österreichischen Musikszene. Neben seinem Solo-Projekt I-Wolf erlangte er auch weithin Bekanntheit mit der Band Sofa Surfers sowie durch Film- und Theatermusikproduktionen.

Die vielseitige Künstlerin Barca Baxant fesselt das Publikum durch eine ausgelassene und starke Bühnenperformance und ihre eindrucksvolle Stimme. Sie performt und entwickelt ihr Bühnenimage, schreibt und arrangiert Songs seit ihrem 16 Lebensjahr. Sie wirkte in vielen musikalischen Projekten mit, unter anderem bei ihrer aktuellen Band "The Bandaloop".

Besetzung:
Lawrence Okello, Barca Baxant, Wolfgang Schlögl, Namisango Catherine, Bazibu Micheal, Farouque Bukenya

=====

Traditional Ugandan music mixed with electronic music from Austria.

Combining these completely different styles of music is not only a challenge – it is also an exciting adventure for the musicians of Amadinda Uganda and the Austrian artists Wolfgang Schlögl and Barca Baxant.

Amadinda Uganda was founded by Lawrence Okello in 2015. In the same year they were on tour in Austria and Germany, hosted by kulturen in bewegung. In September 2016 a new chapter will be opened: Wolfgang Schlögl aka I-Wolf and Barca Baxant from the Band "The Bandaloop" will travel to Uganda to deepen the creative collaboration with the musicians Namisango Catherine, Bazibu Micheal, Farouque Bukenya und Okello Lawrence. At the Bayimba Festival 2016 in Kampala/Uganda they are going to present their Austrian-Ugandan musical mash up under the name "Amadinda Sound System" for the very first time.

In Buganda, long before the British Empire had built up their bases in the 19th century, there has been a high developed music culture. The Baganda people composed in honour of their king outstanding music with interlocking sounds for the Amadinda. The Amadinda is the main instrument in the history of Ugandan music, comparable with the piano in the western hemisphere. Amadinda Uganda aims to interpret the musical culture of the Buganda in a modern way.

The Musicians

Lawrence Okello, the artistic leader of Amadinda Uganda, knows all the codes and secrets of most traditional instruments. Okello is potentially one of the best percussionists and instrumentalists when it comes to Ugandan instruments. With this project he takes Uganda's musical heritage to another level.
The singer Cathrine Namisango, the percussionist and dancer Farouque Bukenya and Bazibu Michael also a multiinstrumentalist, are completing the Ugandan musical part of Amadinda Sound System.

Wolfgang Schlögl is a true veteran in the Austrian electronic music scene. Besides his solo project I-Wolf, he became known internationally with the Band Sofa Surfers. He produced albums for artists in Austria and abroad and has been working in the fields of theatre music and contemporary music.

The multi-talented artist Barca Baxant fascinates with a strong stage presence and her vocal power. Her performance has this special personal touch which is underlined with her songwriting and arranging. She was involved in many music-projects. Currently she is working with her band "The Bandaloop".

The artistic exchange of the Amadinda Sound System will be documented by the filmmakers Nicola von Leffern and Jakob Sauer.
A record release and a Europe concert tour in 2017 will follow.

Line up:
Lawrence Okello, Barca Baxant, Wolfgang Schlögl, Namisango Catherine, Bazibu Micheal, Farouque Bukenya