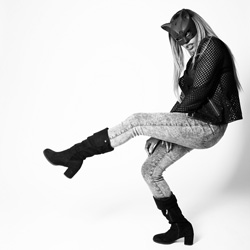 FemFriday #5 Soulcat E-Phife / Pilz
18:30 Talk
Cards on the table! – These are the rules of HipHop

The concert series FemFriday, curated by kulturen in bewegung, puts every second Friday of a month a spotlight on exceptional female musicians and female fronted bands of urban music in the Weltmuseum Wien.
Pilz
The german female rapper is highly controversial. She makes no bones about it. She points out fearlessly and tough social and poltical grievances within provocative and well balanced rhymes. 2017 aroused a shitstorm in the social media around a supposedly scandalous Live Rap-Battle against the DLTLLY (Don't let the label label you)-Champion, Nedal Nip, where she decided to wear a headscarf.
Now she is back with her new album Tod/Geburt. She gives an insight on a life in poverty and does not hold back with political punshlines and statements. The beats are all produced by Rypsylon who was also part of her KACH Mixtape and supported her as a DJ during her tour through Germany last year.
Soulcat E-Phife
Born in the Dominican Republic and now based in Vienna the young artist fascinates niche audiences as well as the mainstream. Old school Soul, funky breaks, Funk , Hip Hop, UK Garage, House and Trap are her musical territories. Since 2011 she has performed as a rapper and Hip Hop artist. She is part the Femme DMC crew and soulcatmusiq.
Pre-Sale:€ 19, Box office: € 24 (reduced € 19)
Tickets inclusive entry to the exhibitions
Online-Tickets are available at the Webshop of the Weltmuseum Wien