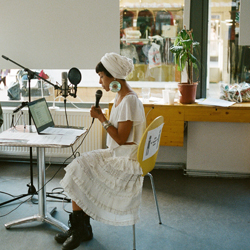 Reading the Radical x Fem*Friday
Reading the Radical is about intimacy as a form of radicality. It encourages sharing the most honest and most subjective issues for self expression and self reflection in others.
Episode 2 is a (UK) Black History Month special focusing on women of all backgrounds. For this episode we collaborate with Fem*Friday given their focus on supporting wom*n and putting them in the spotlight in the intersection of culture. This episode invites one keynote/suprise reader for a special introduction for the episode.
The radio show is produced and curated by Tonica Hunter in collaboration with broadcasting partner Res Radio and was started initially as part of a series of events in Summer 2020 supported by Caritas Austria, namely 'Out of (Ab)stand129'.
Reading the Radical invites 5 readers to share the personal and (thereby) political with their listeners. The format, the language, the type of 'text' (or song lyric, or poet, or manifesto) is all up to the reader - giving them agency and a platform for their thoughts.
Guests:
Sarah Udoh Grossfurthner (author, artist)
Marie Noel (actress, director, screenwriter)
Belinda Kazeem Kaminski (artist, filmmaker, researcher)
Elisabeth Tambwe (performer, choreographer, visual artist and responsible for an multidisciplinary art space Chateau Rouge)
Surprise reader/keynote (designer, artist)
Artist of the episode - G.RIZO - dj, producer, podcaster