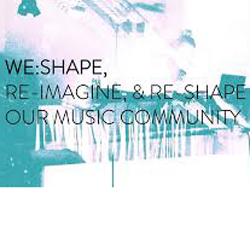 WE:Shape Re-imagine, & Re-shape our music community
WE:Shape aims to bring together musicians from all genres in order to create a support system for freelancers who are the subject of institutional discriminations on the basis of race, gender, class, ethnicity, age, ability, religion, and sexuality both in the industry and education system.
Diversity is not our problem, but our strength
WE:Shape aims to start polylogues around diversity and raise awareness of the unacceptable working conditions of music makers and performers. We shape connections to fight the isolation; We shape polylogues when we are silenced; We shape demands for recognition when we are discriminated against and neglected for so long. To allow for the exploitation of creative work has become the entry ticket to industry for independent musicians. As a result, most professionals in the music industry are hardly surviving.
It is where we envision members of our music community, from musicians of all styles and backgrounds to music educators, label and agency owners, festival and concert curators, and music journalists, to join forces, in order to collectively understand, empower, and improve our music ecosystem, and to build a more diverse, inclusive, and fair industry and education system in Austria. To read our statement and approaches, please check our website: www.weshape.network
Racism, ageism, ableism, sexism, homophobia, and other forms of discrimination, are established mentalities that systematically influence how we perceive music as a form of culture, as an industry, and as a form of education. For a thriving music eco-system that supports and promotes the music economy, we need a constantly refreshing pool of diverse creative talents. We must ensure we attract people into the industry from all walks of life and all backgrounds and encourage them to progress through the ranks. To have that, we also need the right infrastructure in our music education system and a strong network to shape it.
WE:Shape aims not only to build a foundation for the underrepresented musicians, musical cultures and music styles in the Austrian music industry and education but also to push for more diversification in positions of power as well as decision-making processes related to our music community, to make sure the system becomes inclusive and sustainable.